One of direct mail's biggest advantages is its ability to make personal one-to-one contact with your prospect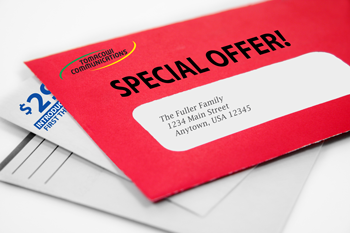 Direct Mail is one of the most popular forms of direct marketing and an important piece in your Multi Channel Marketing Approach. With Print Solutions' extensive knowledge of direct mail campaigns, you benefit from a turn key solution: Design, Printing, Mail List Management, and Delivery. Send promotional leaflets, flyers and letters directly to the customer at their home or business address. Documents often include simple adverts, catalogues, CDs and even product samples.
Direct Mail allows you to target your messages to precisely those recipients that are likely to become customers. In the end, direct mail allows you to isolate your marketing dollars to high-probability prospects and avoid wasting money on those that are likely to be uninterested.
Print Solutions can literally put your presence
in your potential customer's hands!